cv-templates
Graduate CV Template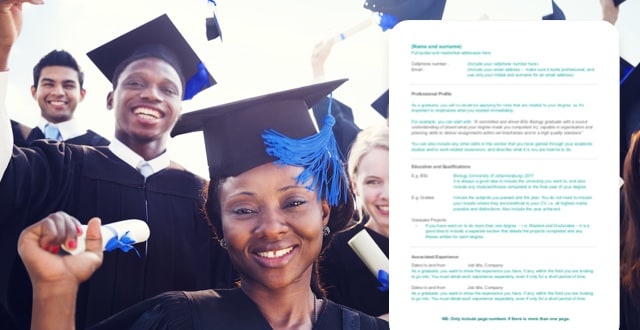 (Name and surname)
Full postal and residential addresses here.
Cellphone number: (Include your cellphone number here)
Email: (Include your email address – make sure it looks professional, and use only your initials and surname for an email address)
Professional Profile
As a graduate, you will no doubt be applying for roles that are related to your degree, so it's important to emphasise what you studied immediately. 
For example, you can start with: "A committed and driven BSc Biology graduate with a sound understanding of (insert what your degree made you competent in), capable in organisation and planning skills to deliver assignments within set timeframes and to a high quality standard."
You can also include any other skills in this section that you have gained through your academic studies and/or work-related experience, and describe what it is you are looking to do.
Education and Qualifications
E.g. BSc – Biology (University of Johannesburg) 2017It is always a good idea to include the university you went to, and also include any modules/theses completed in the final year of your degree.
E.g. Grades – Include the subjects you passed and the year. You do not need to include your results unless they are beneficial to your CV, i.e. all highest marks possible and distinctions. Also include the year achieved.
Graduate Projects: 
If you have went on to do more than one degree

 

– i.e.

Masters and Doctorates

–

it is a good idea to include a separate section that details the projects completed and any theses written for each degree.
Associated Experience
Dates to and from – Job title, Company

As a graduate, you want to show the experience you have, if any, within the field you are looking to go into. You must detail each experience separately, even if only for a short period of time.
Keep going until you have covered all of your work experience. Even a one-day job might have the experience employers are looking for and can train you in.
Other Experience
Dates to and from – Job title, Company
As many students do, you may have done some part-time work not related to your course, such as restaurant work. It is still important to include this on your CV as it highlights other skills, including communication and multi-tasking. 
Dates to and from – Job title, Company
Keep going until you have covered all work experience.
IT Skills 
E.g. Microsoft Word
As a student, you have probably have a high level of proficiency within IT. Even if it is not relevant to the position you are applying for, it is always advisable to keep these skills in as it shows that you can learn applications easily.
Personal Details/Other
Interests include:
Include your hobbies or interests here as it gives the reader something which they can connect with you on a personal level. However, certain things can give off the wrong impression , such as the words "socialising" or "drinking"; the best way to phrase these activities is "spending time with family and/or friends".
References:
Employers like asking for references, so make sure you to include names of past employers and/or persons who potential employers can contact to find out more about you.
Do not include your date of birth on your professional CV – if it is present, then the document could potentially be used to commit fraud.
Try to keep your CV to one page, as you won't have that much experience so won't need to extend to two.